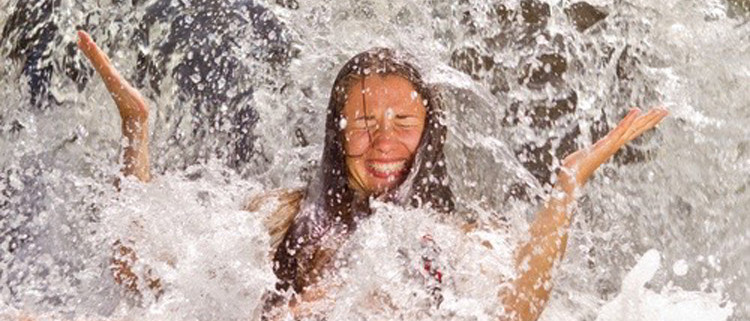 Although I have a background in tantra stretching back 20 years, I tend not to talk of my work in terms of tantra. And that's particularly applicable to tantric massage, for several reasons.
The most obvious one is that 'tantric massage' is widely used as a euphemism for a sexual massage, generally offered to men by women, understood as a cursory massage with a happy ending.
But the secondary one is that in public consciousness, tantric massage is focused primarily on building aroused states, leading to orgasm. And I've always been antagonistic to this perspective, as I think it imprisons female sexuality within a body/sensation container which is too small for it. It falls within the classic patriarchal perspective of seeing female sexuality as like male sexuality, just not as good. But until recently, I've not had a language in which I could express an alternative.
Now I do. In my talk at The Manchester Sex Lectures in October 2022, I talked about The Erotic Body and The Sexual Body. The Sexual Body is what we normally think of as sexuality. It's energetically focused in the genitals. It builds towards orgasm, when it discharges. The Erotic Body is different. Sexual arousal is involved, but it manifests in a different way. Aside from a strong feeling of openness and pleasurable relaxation [within which there is arousal], clients often report unusual experiences: powerful, dream-like visions, seeing colours, experiences of profound connection with the rest of existence, and so forth. You can read the text of that talk here [it's also on YouTube]
The Erotic Body gave me a language to talk about my work, and my approach to tantra massage. Which is that my focus is on making what is experienced through touch to the body deeper and more vivid. That is, there isn't an inevitable journey of progressively increasing arousal leading to orgasm. There could be a journey like that, engaging The Sexual Body, but, equally validly, the experience could be an unfolding of The Erotic Body, different in each person, and delineating a sexual identity which is unique to you.
How does it work?
Because the work is a gradual unfolding of your unique sexual nature, the most important thing is to go at a pace which is agreed and which is right for you, because unless there's trust and safety, nothing of value can be experienced. To establish this foundation, I always suggest an initial -and free- telephone conversation before we meet. That might be enough, but I also offer the further option of a free conversation in my studio, so you can get more of a concrete sense of what the work entails prior to deciding to do it or not.
Once we start with touch, my focus isn't on technique or arousal, it's about you being able to gradually open up to all aspects of your experience. That includes arousal, but it's not the central thing. In practical terms, it's very unlikely that there will be internal touch at the first session, and perhaps not genital touch at all. It's completely tailored to you.
If any of this sparks your curiosity, and you'd like to know more about it, you can contact me here.
https://www.loveandsexcoaching.co.uk/wp-content/uploads/2015/12/girl.jpg
378
750
John Webber Fraser
https://www.loveandsexcoaching.co.uk/wp-content/uploads/2015/12/logo.png
John Webber Fraser
2023-03-26 19:49:54
2023-07-11 08:47:11
Tantric Massage For Women